Everyone agrees that housing co-ops need to eliminate member arrears—or at least keep them to a bare minimum. Uncontrolled arrears are the mark of a co-op sliding into financial difficulty, putting at risk its ability to cover day-to-day operating expenses. Arrears also take money out of the members' pockets, because, at the end of the day, if the arrears aren't collected, the rest of the members are on the hook for the costs.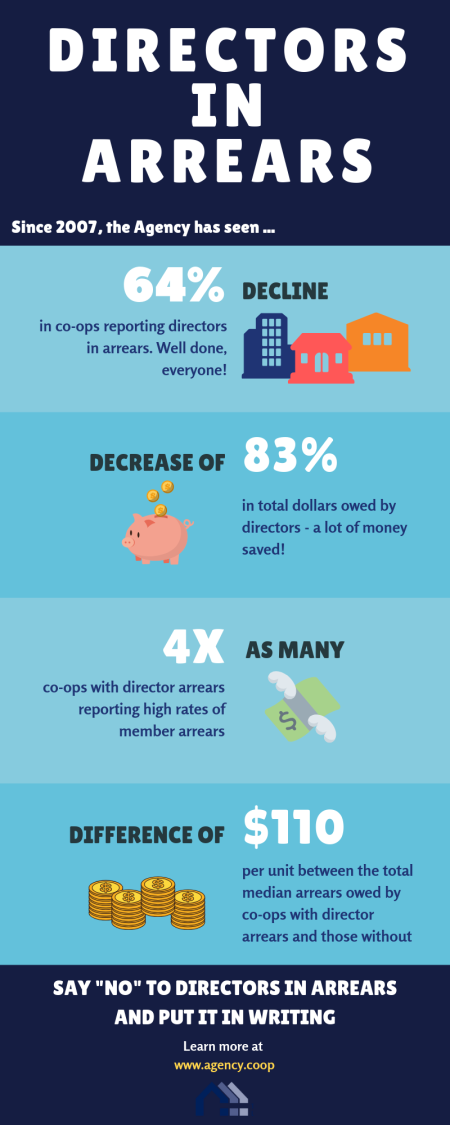 Even worse, sometimes the member in arrears is also a board member. After more than 10 years of tracking co-op operations, the Agency has found that member arrears and bad debts are almost four times higher in co-operatives with director arrears than in those without. Given this, the Agency has strongly encouraged clients to adopt by-laws or rules that prevent members in arrears from serving on the board. We are happy to report that this advice is paying off, as clients reporting directors with arrears have declined from 28 % in 2007 to 10 % in 2018. At the same time, the total owed by directors across our portfolio of over 500 co-ops has fallen from $416,383 in 2007 to just $69,680 in 2018—a decline of 83 %!
Has your co-op adopted a by-law or put rules in place to keep members in arrears off the board? If not, check out our Q&A on Directors in Arrears, as well as Co-operative Housing Federation Canada's handy tip-sheet. These resources should help convince your board and membership that the time to take action on director arrears is now. Even if your co-op has never had this problem, it's smart to be prepared. And, by the way, sample rules and by-laws, tailored to your provincial requirements, are already drafted, just to make it easier when your co-op is ready.