Over the past 15 years, the Agency has worked with a number of co-operatives facing serious and complex financial challenges. Effective solutions can be difficult to achieve. They demand flexibility and an enormous commitment to positive change from everyone involved. At the Agency, nothing makes us happier than seeing these co-ops succeed.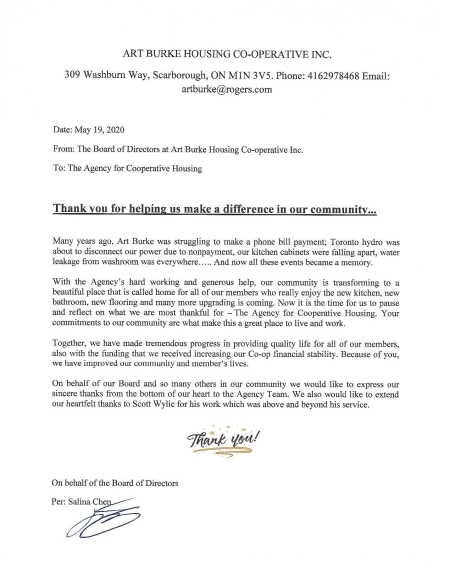 We are proud to share this thank-you letter, written to the Agency from the Board of Directors of Art Burke Housing Co-operative for our part in their co-op's success. 
In partnership with us, the Co-operative Housing Federation of Toronto also worked with Art Burke Co‑op for many years. The federation provided the governance support and training that developed the high level of member engagement necessary for a strong, safe and financially stable community.
With their management company, the Community Housing Management Network, behind them every step of the way, the Board of Directors and membership of Art Burke Co-op have shown an unwavering determination to reach their goal. After many difficult years, the Board now leads a financially stable co‑op community that members are proud to call home.
We humbly accept the Board's letter of gratitude and are sharing it with you, hoping to inspire other co‑ops facing adversity—financial or otherwise. When everyone works toward a common goal, even when the burden is heavy, we know that many co-operative hands make light work.
Have a story to tell? We want to hear from you, email us at info@agency.coop